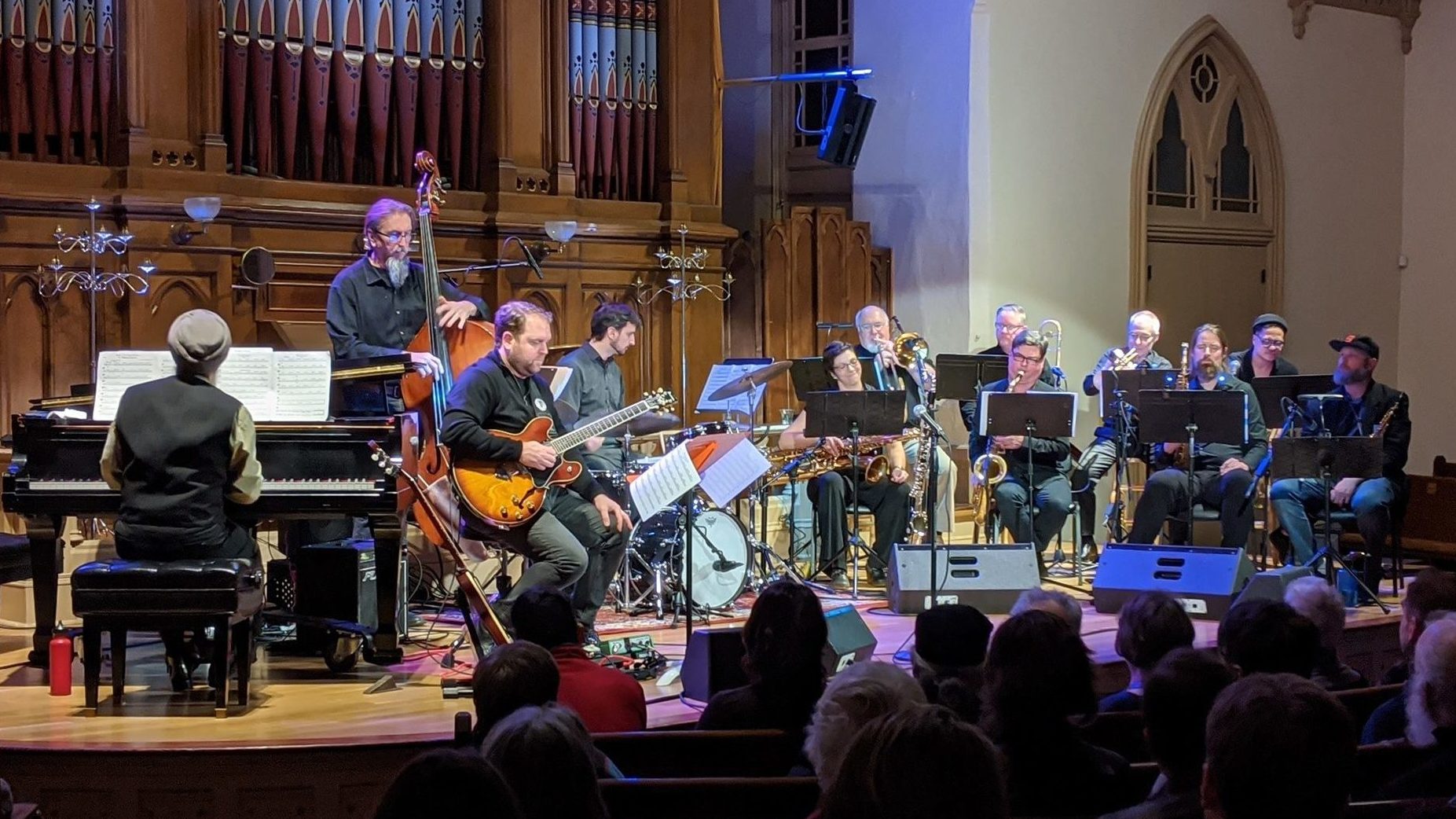 See our 2021-2023 Strategic Plan here.
Vision
PJCE envisions a vibrant jazz community where composers, performers, students and audiences create, see and hear their cultural experiences artistically expressed and represented in original jazz compositions and performance.
Mission
PJCE's mission is to create and perform original jazz music that engages and supports our community's diverse artists, cultures and place.
Values
Community: We value a supportive community experience that includes a diverse group of composers, performers, audience, and students.
Integrity: We carry out our work with the greatest responsibility, openness, and accountability.
Innovation: We honor jazz and its legacy as an inclusive and diverse art that constantly renews itself in each generation's time and place.
Legacy: We recognize jazz as a quintessentially American cultural achievement and contribution to world culture, created from and within the African American experience in the United States.
Respect: We treat all people, communities, and cultures with dignity and respect.
Excellence: We strive for excellence in all our endeavors.
Creativity: We value imagination, innovation, and music that embraces local culture, community and history.
History
The PJCE was founded in 2007 by pianist Andrew Oliver and saxophonist Gus Slayton after the pair graduated from Portland State University. Along with a particularly vibrant group of student composers in the PSU big band that year, they wanted to continue to create new music for large ensemble. The first concerts were informal and exciting examples of a like-minded group of young musicians getting together to create new sounds and experiment with the textures of large ensemble jazz.
The Portland Mercury called the PJCE's second show "the most strikingly punk show I've seen in years," and the band went on to premiere over 20 new compositions by Portland composers in its first few years of existence. As the organization evolved and matured, the PJCE continued to commission and perform new music for large ensemble by an increasing variety of established and emerging Portland-area composers while also establishing itself as a nonprofit corporation in 2010.
The administrative team expanded with the addition of Dan Duval soon thereafter, and in 2013 Andrew and Dan co-founded PJCE Records, a new record label branch of the organization, filling a void in the Portland music scene by documenting the rich variety of small group jazz and creative music being created by local composers and improvisers. In the first year of its existence, the label released one album per month, often recorded in informal live sessions designed to reflect the immediacy of the music's creation and the natural sound of the groups. The label, now under the direction of Ryan Meagher and Douglas Detrick, continues to regularly release a wide variety of high quality original music by Oregon artists.
In 2013, Andrew Oliver moved to London and Douglas Detrick was elected Executive Director upon his departure. Since then, the organization has expanded its scope to include collaborations with special local and national guests such as John Gross, Taylor Ho Bynum, and Catherine Feeny and a variety of themed concerts tying into elements of local history and culture. The PJCE launched its podcast Beyond Category in 2015 to expand the organization's platform and give artists an opportunity to share their stories and music with a wider audience.
In 2016, PJCE asked Mieke Bruggeman, local educator and one of PJCE's longest standing musicians to head the Young Jazz Composers program (formerly Grasshoppers). A unique program to the Northwest, YJC is a mentorship and performance opportunity for students to learn how to compose music for jazz ensemble. Through one-on-one private lessons with established local composers and feedback in two workshops with professional performers, students gain valuable insight into composing. Previous mentors have included Darrell Grant, Ezra Weiss, Thomas Barber, Michelle Medler and Mark Orton. After 6 years of growing the program, the PJCE commissioned past participants to compose for our first YJC Alumni concert at the beginning of 2022 and will be looking forward to many more.
Staff
Meg Morrow, Executive Director
Meg Morrow is a percussionist, radio host, and arts enthusiast based in Portland, Oregon. Originally from Kentucky, Meg graduated from the University of Louisville Jazz Studies Program where she concentrated in jazz drumming. For over a decade Meg has been performing, composing/arranging, touring, recording and teaching. She was Assistant Director with the Louisville Leopard Percussionists, Music Director for Girls Rock Louisville, Percussion instructor for Kentucky School for the Blind, and taught classroom music for educators at the University of Louisville. Meg is passionate about access to Jazz for all and encouraging others to jump on the jazz train. She currently hosts the AM Bridge on KMHD, Portland's Jazz Radio, teaches private lessons, and volunteers for Pacific Northwest Search and Rescue.
Ryan Meagher, Artistic Director, Director of PJCE Records
Ryan Meagher (pronounced Marr), originally a native of San Jose, California, is a jazz guitarist and composer who launched his international reputation in New York City (NYC) in 2003 after completing his bachelor of music degree at San Diego State University. He spent his first few years in NYC discovering his compositional voice and honing his improvisational craft.
Meagher is an established guitarist in Portland's jazz community and is also known for his roles as a co-founder and Programming Director of Montavilla Jazz, PJCE's Director of Operations and Director of PJCE Records, an editor of Jazzscene Magazine, as well as in his role as an educator with Mt Hood Community College, University of Portland, Lower Columbia College, and with Metropolitan Youth Symphony.
Mieke Bruggeman-Smith, Education Coordinator
Mieke Bruggeman-Smith runs the PJCE's Young Jazz Composers program. She is a performer, educator, and composer/arranger. She performs in a wide variety of groups including the Quadraphonnes, an all-female sax quartet, Afro-Cuban band Melao de Cuba, and the PJCE, as well as classical saxophone and musical theatre.
Mieke also enjoys teaching private lessons at her home studio and co-teaching at Roosevelt HS, Beaumont MS and with the Portland Youth Jazz Orchestra. She is heavily involved in promoting music education and loves collaborating with her music community. Music is the one outlet that (as author Tom Robbins might say) keeps the oxygen from leaking out of her life.
Board of Directors
Donna Cruz-Moreno (President)
Donna Cruz-Moreno is originally from in Phoenix, Arizona. In 2002, she moved to Portland, Oregon with her husband and two sons. Donna became a Jazz student/enthusiast, and in the course of her studies, she learned more about Portland jazz artists and support organizations. She is President of "Portland Rock on with us" (PROWUS), a music scholarship program for students ages 8-18 in the Portland area.
Lee Toft (Vice President)
I took up the trumpet at a young age and have gigged off and on ever since. Growing up, my idols were Dizzy Gillespie, Miles Davis, Freddie Hubbard and Lee Morgan. Playing in R&B bands while in junior high and high school throughout the metro New York City area, I had the opportunity to perform often, including an amateur night at the Apollo Theater.
After graduating from college, I went on the road for few years and toured the US and Canada extensively while playing trumpet and keyboards for a road production of the Broadway show Beatlemania. Eventually I took on the responsibilities of tour manager and tour accountant while continuing to work as a backstage musician. After I got off the road, I picked up a day job.
Happily, I was still able to play trumpet on Latin gigs, club dates and freelance orchestral engagements. In 1991 I moved to Los Angeles and began a 25 year career in TV and Film post-production. In addition to live sports and entertainment broadcasts, I also worked on projects for ESPN, NBC, ABC, CBS, FOX, BET, Disney, SyFy, Animal Planet, Discovery Network, A&E as well as other organizations. In 2016 I moved to Oregon fulltime and transitioned into real estate (which it turns out is remarkably similar to post-production). In my spare time, I attempt to play simple piano pieces while thinking about working to get my trumpet chops back.
Pam Jones (Secretary)
I have lived in Portland for 40 years and as a stay-at-home mom came to jazz later in life when my three kids were in middle and high school. I read about pianist Darrell Grant's People Music Project and went out to hear them, and this led to going out for live music and getting acquainted with the jazz community. I have served on the board of the Jazz Society of Oregon, volunteered for PDX Jazz Festival as their volunteer coordinator, as well as organizing their "Incredible Journey of Jazz" performances in the schools. I have followed PJCE since it was founded and appreciate the direction it has taken by making connections with the community and beyond.
Marilyn Keller
Marilyn T. Keller, 2016 Jazz Society of Oregon Hall of Fame Inductee, is
a 38-year veteran of music and stage performance in Jazz, Gospel, R&B, Pop,
Blues, and theater, nationally and internationally. Her musical roots are diverse. She has built a career that has taken her as a feature artist to Denmark, Sweden, Norway, The Netherlands, Spain, Australia, Russia and the UK for concerts, festivals, nightclubs and recording work. Her voice can be heard on multiple recordings, movie sound tracks, commercials and documentaries.
Marilyn's formative jazz training was as a member of the Mt. Hood
Community College Vocal Jazz Ensemble. She can be seen frequently at clubs, restaurants, festivals and holiday events throughout the Pacific Northwest with such artists as Don Latarski, Tom Grant, and Darrell Grant, most notably in his suites, "Step By Step – The Ruby Bridges Story," and "The Territory." She has performed weekly for 28 years with the Augustana Jazz Quartet. In 1997, she joined the Black Swan Classic Jazz Band, establishing a following in the Dixieland and Ragtime scene. She has also worked frequently in musical theater.
Marilyn is dedicated to music education and has given clinics and master classes for choirs and bands in public schools and is currently an Adjunct Professor at Portland State University, teaching Vocal Jazz Improvisation. https://www.marilyntkeller.com/
Mark Kramer
Mark Kramer, Attorney, specializes in family law and civil litigation including personal injury, civil rights, and employment cases. He has more than 35 years of trial experience and extensive experience in family law issues ranging from adoption and contested custody to grandparent and psychological parent rights. Mark has served as a pro-tem judge for the Multnomah County Circuit Court. As co-counsel for the Oregon State Judiciary Committee and in private practice, Mark drafted family law legislation that is now Oregon law. He is a member of the National Lawyers Guild and represents pro bono clients including Right 2 Dream Too. He joined the Board in 2015 and provides support to the Board in contract, regulatory compliance, insurance and other matters.
Mark graduated with honors from Cornell University and then received his law degree from Northeastern University. He is listed in Who's Who in American Law. Mark is married to a Licensed Clinical Social Worker and has two adult sons.
Douglas Detrick
Douglas Detrick is a composer and multi-instrumentalist, writer, and audio producer whose work in these diverse areas is distinguished by its quiet thoughtfulness and its embrace of good ideas from unconventional sources. He was the Executive Director of Portland Jazz Composers from 2013 to 2022, and is now the founder and principal of Substrate Arts Consulting.
Kerry Politzer
Kerry Politzer is a Portland-based jazz pianist, composer, and educator. She is on the music faculty of Portland State University and has taught through Jazz at Lincoln Center's Swing University. Kerry received a Bachelor of Music in Jazz Piano from the New England Conservatory of Music and a Master of Music in Jazz Studies from Rowan University. She has released seven albums as a leader, two of which were released by PJCE Records. She also appears on PJCE's Oregonophony and The Peripatetic Piano. Kerry leads Bossa PDX, a samba-jazz and bossa nova group that performs regionally.  
Owen Broder
Saxophonist and band leader Owen Broder has been recognized for his "smooth-as-silk alto and baritone saxophone work," (DownBeat). DownBeat praised his album "Hertiage" as a "transcendent work," and included his album "Hodges: Front and Center, Vol. 1" in their list of Best Albums of 2022. Broder is a member of the Grammy-nominated Anat Cohen Tentet and frequently performs with the Grammy-winning Gil Evans Project and the YouTube sensation Postmodern Jukebox. Broder was a recipient of the 2018 Herb Alpert Young Jazz Composer Award and his work was praised as having a "sturdy artistic thread that connects bandleaders Maria Schneider, Ryan Truesdell and Owen Broder," (DownBeat). He has received commissioned projects from the International Society of Jazz Arrangers and Composers, the Airmen of Note, the U.S. Air Force Band in Europe, and several off-Broadway shows. Broder co-founded and performed in Live From Our Living Rooms. Credited as "the first online jazz festival" by Rolling Stone, the initiative raised over $140k in support of US-based musicians whose performance careers were halted due to COVID-19. As an educator, Broder teaches jazz courses at Portland State University and saxophone lessons at Pacific University.
Volunteer Advisors
Jim Toscano (Finance)
Jim Toscano, a newcomer to Portland, serves as a consultant to nonprofit organizations in planning, governance and resource development. His career in nonprofits spanned over 50 years, 37 of them as a CEO. He earned a BA at Rutgers College and a MA at Yale University.
Save